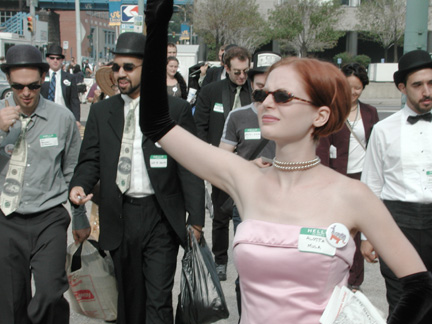 We have always preferred to wield our influence from back rooms at the Capitol or the back nine at the club. Nonetheless, Billionaires for Wealthcare must make public appearances — as Billionaires — if we want to maintain the right to profit from illness.
To become a Billionaire, we ask only that you follow the simple instructions below on how to choose a name, dress the part, and adopt a Billionaire persona. Once you have completed these preliminaries, you and other like-minded Billionaires are ready to stage events and, if you like, form your own chapter of Billionaires for Wealthcare.
Where?
Billionaires can be useful at both pro- and anti-health reform events.  By "counterprotesting" reformers, we help get their message out. And at Teabagger's own events, we show up and thank them for fighting so hard to protect OUR right to deny THEIR claims.
See our "Tips for a Successful Action" for more tips and tactics
With Who?
Connect with other Billionaires in your area using our Chapters page.  Don't see a yacht club in your neck of the gated community? Use our comment section at to announce yourself.
You can also visit our Facebook page to find actions, events and other billionaires near you.
How?
Image is everything. Wearing suitable attire is a fundamental element of how we communicate. Billionaires should dress to oppress; those who want to participate but are not appropriately dressed can act as foils from the opposing side. For tips on what to wear, please review the section on Billionaire attire (below).
Remember, we make a bigger and more powerful impression when we appear unified and dignified.
Stay together as a group, remaining distinct and separate from non-Billionaires. Our impact is lessened when ordinary protesters, all ratty in blue jeans and backpacks, try to mingle with us.
The medium Is the message, and we own the medium.  We get our message across most effectively with clean, professional-looking signage, but expensive-looking doesn't have to be expensive. We've included several reproducible placards on this website; have your staff print them out for you.  Remember: while it is perfectly appropriate to have illuminated manuscripts of our stock portfolios painstakingly painted by children in sweatshops, hand-lettered signs have no place at our events. Of course, a little gold embossment around the edges provides a tasteful je ne sais quoi.
Whose Media? Our Media!
Be prepared to give a brief, witty, complete statement to the media.
Make use of our chants, songs, one-liners and talking points, and make sure you can be heard.
For more tools and tips on a successful event, check out our Media Tips page.

As a billionaire, you must make a good name for yourself (or at least borrow one from your parents). Here are some famous Billionaire names from around the country:
Bill M. Moore
Billie O'Nair
Frida Market
Lou Pole
Phil T. Rich
Z. Roe Compassion
Dee Regulation
Appearances are everything. Formal dress is required.
We know that there is a great wealth of diversity among the extremely rich — and therefore among our fashion choices as well. Billionaires come in all colors, shapes and sizes. We have old money and oil money and dot-com money and money at work and money on vacation and daytime money and evening money.
But as important as it is to honor the diversity of our ranks, it is even more important to preserve the traditional image of the Billionaire in America.
It has occasionally come to our attention that some Billionaires have tried to gather in casual garb, and to those deviant individualists, we have only this to say: Formal is Normal.  Is is not only crucial to sport the right attitude, but to sport the right suit and shoes as well.
So dress to oppress and hit the streets!
For men, suit-able attire includes:
• black tux or suit, white shirt and dress shoes.  Optional accessories: money tie, bowtie, bowler hat, cigar, monocle, white gloves, cummerbund, suspenders, cane. Also acceptable: crisp white pants, polo shirt, blazer, ascot and yachtsman's cap.
For women:
• floor or knee-length gown, pearls, fancy scarf and heels. Optional Accessories: furs, diamonds, opera gloves, cigarette holder, tiara. Also acceptable: insurance exec business suit and heels or yachting attire.
Absolutely no jeans, tshirts, sneakers or workboots, fun as it might be to imagine what it's like to actually work for a living.
Below are some chants, talking points and other useful stuff . For best results, when drafting talking points for an action, strive for brevity, humor and specific content which shows why only wealthy people should be supporting America's for-profit healthcare system.
CHANTS:
Regular:
Bring Back Bush!
Hey Hey, Ho Ho, Keep the Profits with the CEOs
You say health gap, I say wealth gap.
Stock options, yes! Public Option, no!
Your pain, our gain.
Walk. It. Off.
Wealthcare, Not Healthcare!
Fear, Lies, Sedition! Pre-Existing-Condition!
Making fun of Tea-Partiers:
Ang-ry Yell! Ang-ry Yell!
We are louder! We are louder!
What are we saying? Rrrrrrr!
How do we say it? LOUD!
Do we know what we're saying, Noooooo!
What are we mad about? Stuff!"
If the facts do not equate, just lie and obfuscate!
ONE-LINERS:
What health care problem? I feel just fine.
Let them eat Advil.
Whatever happened to an apple a day?
Band-Aids are affordable.
Nothing Says "Freedom" Like Denying Claims
Don't Tread My Freedom to Deny Your Claim
Don't Blame Me for Your Pre-Existing Condition
Skyrocketing Premiums: What's Not to Like?
Your fight is not with us, it's for us. (to the teabaggers)
Ask not what your healthcare corporation can do for you…but what you can do for your healthcare corporation
For the past 8 years, health care costs have been moving in the right direction…Up!
Nobody's forcing you to get sick, you know.
Support Our Troops: Stop Giving Them Socialized Medicine! (thru the VA)
Fight Socialism! Take Away VA Benefits from our Troops Now!
Fight Socialism! End Medicare Now!
Who needs infrastructure?
Your premiums may have doubled, but our salaries have tripled!
The system works great — for the insurance industry!
Keeping our profits healthy will require some sacrifice. Not on our part, of course.
You deserve the healthcare you can afford
Private Insurance works just fine
Walk it off.
Wealth before health. (used a la "age before beauty")
We're just like you — minus a few billion dollars and a butler or two. (to teabaggers)
TALKING POINTS:
General
People keep saying that insurance companies don't like sick people, which is totally false.  Sick people are fine, they don't cost us anything – it's being forced to CARE for sick people that the problem
Don't give the government your money! We are happy to keep gouging you instead.
We like the current system: we get to insure the healthy and offload the sick to taxpayers.
How so? When any one of the 47 million uninsured Americans need care they go to the emergency room – at 5 times the cost of a doctor's visit! – Taxpayers are already footing that bill nice and quietly everyday.  And hospitals get to charge full market rates while we only insure wealthy, healthy customers.  It's a win-win! Well, maybe not for taxpayers…
Some people say the healthcare system is broken. But it works for us. Just like Congress.
Healthcare is a commodity, not a right.
You want insurance AND a house?!  And you call ME greedy?
You think you pay a lot for healthcare? For every congressman, I've got six lobbyists on my payroll. And they don't come cheap! Especially when all SEVEN of them have their hands out!.
Public Option
Medicare is 10 times more efficient than private insurance. They don't have to do any marketing, only 3% of their costs are paperwork, and they don't pay out huge CEO salaries. The public option will just be more of the same. Where is the profit in that?"
We don't mind competing with the government — on the golf course. Matter of fact, I just took Max Baucus out for a game just last week.
Pre-existing Conditions
We're happy to accept people with pre-existing conditions: health, wealth, and youth.
Denying Claims
We deny more claims before 8am than Medicare does all day.
Because nothing says "freedom" like denying claims.
We believe in a free market.  We should be free to deny coverage at will.
Recision
Our death panels turn a profit. We dump customers from our rolls when they become too sick to cover.  In fact our quota system makes sure of it.  Just last year three of our health care insurance companies made $300 million just by kicking out 20K customers!
SONGS:
Posted on | September 6, 2009 | Comments
Comments